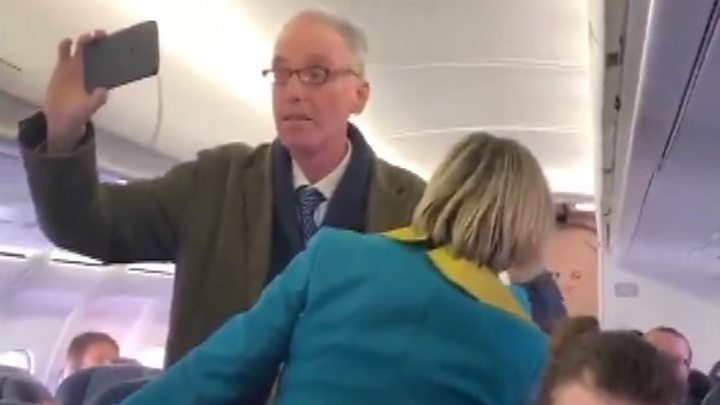 An Extinction Rebellion activist had to be taken off a flight at London City Airport, as part of ongoing protests.
BBC Newsnight's Nicholas Watt said his flight was about to take off when a protester refused to resume his seat.
Police arrested several people blocking the airport entrance as others glued themselves to the floor and one man climbed on top of a plane.
In Westminster, tents and protesters have been cleared from the roads leading to Parliament Square.
However, streets around Parliament and Whitehall remain closed to traffic, apart from cyclists, with a heavy police presence in the area.
It is the fourth day of the Extinction Rebellion climate change protests, which are taking place across central London and other major cities worldwide.
By Thursday morning, police had arrested almost 850 people in total in connection with the protests, the Met Police said.
Twenty-nine people have been charged with various offences, police said, including seven who are due to appear at Westminster Magistrates' Court later.
Around lunchtime, former Paralympic cyclist James Brown managed to get on top of a British Airways plane at the airport.
Mr Brown, who is visually impaired, filmed himself clinging to the fuselage and streamed a live message online for Extinction Rebellion.
London City Airport said a man was on top of an Amsterdam-bound plane which had been due to take off just after 13:00 BST. It was unable to say whether he was a passenger on that flight.
Flights have largely run on time or with slight delays in and out of London City Airport throughout the morning.
As of 12:15 BST, more than 100 flights had either arrived or departed, a spokesman for the airport said.
Earlier, Nicholas Watt said his flight from the airport to Dublin was at the end of the runway when a "smartly dressed man" stood up and began to walk down the aisle, delivering a lecture on climate change.
Cabin crew "calmly and very politely" asked the protester to resume his seat and when he declined they alerted the pilot, Watt said in a tweet.
He said the plane then taxied back to the gate, where police escorted the protester off the plane.
Passengers were then able to reboard the flight, which eventually took off nearly two hours late.
Aer Lingus said the passenger was removed "due to disruptive behaviour on board" and a full security check of the aircraft was completed prior to the flight departing.
Activists are attempting a three-day "Hong Kong-style occupation of the terminal building" to highlight what they claim is the "incompatibility" of the east London airport's planned £2bn expansion with meeting the government's legally-binding commitment to go net carbon neutral by 2050.
Former Metropolitan Police detective John Curran was among those arrested, after he glued himself to the pavement outside the airport.
An 83-year-old man, Phil Kingston, was also arrested, as hundreds of people blocked the main passenger entrance.
It is the third time he has been arrested as part of the Extinction Rebellion protests this week.
Those arriving for flights were redirected to a second entrance by security workers and were not allowed to enter the building until they had shown proof of travel.
An activist who gave her name as Claire, told the PA news agency that protesters wanted "to make the statement that there are many areas of our lives that are going to have to change because of the climate crisis we've created, and one of them is flying".
"We can't carry on with life, with business as usual," the 51-year-old said.
Protesters also caused disruption outside the terminal, as several sat down on the zebra crossing, blocking traffic going in and out of the passenger drop-off zone.
Cars and buses were backed up in both directions before the demonstrators were cleared from the roads by police.
Taxi driver Jason Lempiere said the protests had disrupted his work in and around the city.
"It's disturbing everyone's everyday life; working, travel in and out of the airport," he said.
"Yeah, have a voice, but not disrupt people's lives like this."
A spokesman for London City Airport said: "We continue to work closely with the Metropolitan Police to ensure the safe operation of the airport, which remains fully open and operational."
The airport advised passengers to check the status of their flight before travelling.